Submitted by Rachel Gardner on Wed, 13/04/2022 - 10:20
---
Visitors had wellbeing sessions led by a robot coach, 'built' their own quantum computers, and found out why we need to 'reclaim control' of AI at a day of public events we ran during the Cambridge Festival.
On Saturday 9th April, we opened our doors to the public to come and find out more about the research we do here. 
We offered them the opportunity to:
Meet and interact with Pepper and Nao, two wellbeing robots being developed here who might help make us more resilient to life's challenges
Join workshops to learn about spooky quantum phenomena like superposition, entanglement and teleportation & build their own quantum computer, and 
Hear Professor Neil Lawrence encourage us to reframe our view of AI and pick up some tips on how to 'reclaim control' of our data.
Meet the wellbeing robots
Imagine having a wellbeing coach available 24/7 who can reliably improve your mood. You never feel judged, the coach is always on top form, and sessions are tailored to your personality to keep you mentally well. Researchers in the Affective Intelligence and Robotics Lab here hope to make this vision a reality – in robot form. During the event 'Meet Pepper and Nao, the wellbeing robots', PhD student Nikhil Churamani, who works on the robots with Professor of Affective Intelligence & Robotics Hatice Gunes, facilitated short one-to-one sessions with Pepper, the robot wellbeing coach.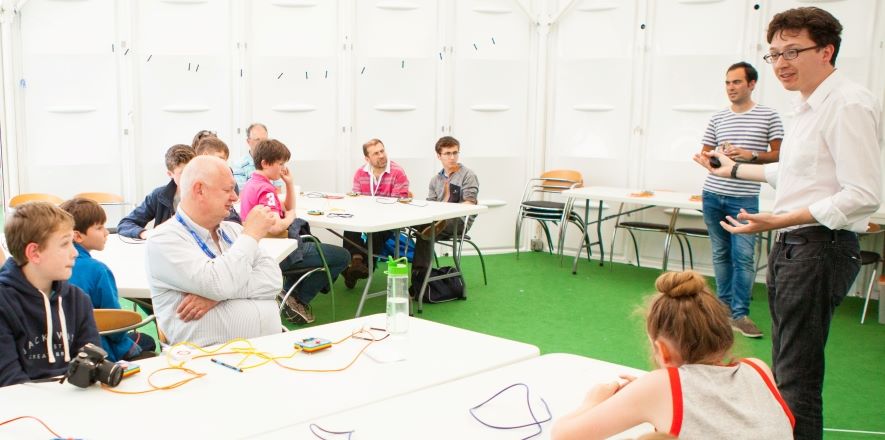 Professor Gunes has also been working on a child-looking robot, 'Nao', to see if robots could effectively be used to support children's wellbeing. Nao is part of a collaborative research project between this Department and the Department of Psychiatry. PhD student Nida Abbasi and postdoctoral researcher Micol Spitale offered people the chance to interact with Nao in a short one-to-one session. 
Build your own Quantum Computer workshops
Quantum computing made accessible. In these - extremely popular - workshops, visitors were able to enter the Qubit Zone and learn about the incredible world of quantum computers. Associate Professor Jamie Vicary (right) and some of his students gave an accessible introduction to mysterious quantum phenomena - including qubits, superposition and entanglement - and then let attendees loose with their own quantum circuitry to try it all out for themselves.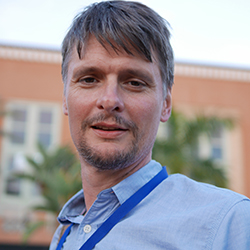 AI: Reclaiming Control
Though AI is ubiquitous in our homes and workplaces, there is widespread misunderstanding of what it really is. At a public lecture on Saturday afternoon, Professor Neil Lawrence (right), DeepMind Professor of Machine Learning here, encouraged us to reframe our view of AI during his talk 'AI: Reclaiming Control'. 
He says, "If we devolve decision-making to intelligent machines, we depend on those machines to accommodate our needs. However, we often don't understand how they function, mistakenly seeing machine intelligence as a reflection of our own, when in fact it operates in a fundamentally different way. We need to better understand intelligent machines, and the influence that the decisions they make has on our lives, otherwise we will lose control over our destiny." During his lecture, Neil also introduced us to AI research projects being undertaken by Dr Sarah Morgan and PhD candidate Diana Robinson.
It was a great day of events and we were very pleased (finally!) to be able to welcome visitors into our building again. We are already planning for next year's Festival.