Submitted by Rachel Gardner on Thu, 01/10/2020 - 10:12
---
A University research initiative that addresses challenges in developing countries formally becomes part of this Department today (1 October 2020).
Cambridge Global Challenges (CGC) – whose Co-Director Alan Blackwell is a Professor here – brings academic researchers from the University together with NGOs, policymakers and industrial partners in the Global South to work on projects that affect the poorest half of the world's population.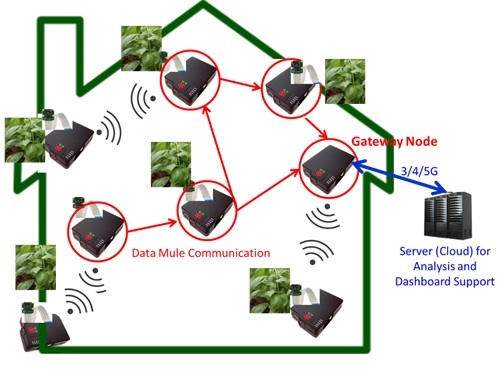 "I'm very pleased that CGC is now being hosted in this Department," says Alan, who himself has just spent a sabbatical year exploring new human-centred AI technologies with colleagues in sub-Saharan Africa. "It continues a tradition of leadership here in addressing global problems and moving towards a better future through digital technology."
Since CGC was set up by the University as a strategic research initiative in 2017, a number of our colleagues have taken part in its projects. Senior Researcher Dr Eiko Yoneki, for example, has worked on 'AirborNet', a project on data-driven modelling for TB and other airborne diseases  in Tanzania.
Eiko is also involved in the 'BugAlert' crop monitoring study in Kenya, in collaboration with a local greenhouse manufacturer there. Kenya depends heavily on agriculture for income, but up to 50 per cent of smallholders' crops can be lost to pests and diseases. The project aims to shift traditional pest detection methods to smart monitoring solutions – such as machine learning-enhanced image recognition technology. (See the graphic representation of this work, above.)
She has found the projects very rewarding, she says. "Collaborating with talented researchers, students eager to expand their knowledge and local people has been a great experience and has inspired new directions for my research."
Meanwhile PhD student Tiago Azevedo is also involved in projects through CGC. His research interest is in the applications of machine learning in real-world datasets, and CGC has offered him the opportunity to learn more about applying ML in healthcare and coral reef conservation.
The organisation first put him in contact with researchers from Uganda involved in an 'AI for Healthcare' workshop. "I was extremely lucky to fly to Kampala," Tiago says, "where I had the opportunity to talk to many researchers and students, which gave me a broader view of the true possibilities of AI."
"We're empowering students in northern Mozambique who now have the chance to learn and gain experience in a specific AI-applied project."

Tiago Azevedo
Subsequently, again with the support of CGC, he became involved with university machine learning researchers in northern Mozambique and joined forces with them to apply for grants targeting specific problems. Their application for funding for a project using computer vision algorithms to aid coral reef conservation was recently successful.
"We are already working, and taking advantage of that to empower local students, who now have the chance to learn and gain experience in a specific AI-applied project," Tiago says. "In the future, we are planning to make the ML Mozambican community bigger."
He too would recommend CGC projects to others. He found meeting researchers in Kampala an "amazing" experience, he says. And he adds: "If an early career researcher is interested in the long-term applications of research, I would definitely recommend closely following CGC and seeking opportunities to share ideas and expertise."
Over the next three years, Cambridge Global Challenges will have a particular focus on advancing the University's global research priorities in education, public health and a zero-carbon future.
Any researcher from any discipline – or partner in the Global South interested in collaborating with Cambridge colleagues – is welcome to approach Dr Sara Serradas Duarte (Cambridge Global Challenges Programme Manager, coordinator@gci.cam.ac.uk) to discuss potential projects.