Submitted by Rachel Gardner on Wed, 09/06/2021 - 16:33
---
Fifty years ago this month, the first ever Computer Science undergraduates in Cambridge sat their finals before going out to face an uncertain future. And what they went on to do should offer hope to this year's finalists.
Then, as now, the future looked worrying – though for them the issue was an economic, rather than a health, crisis. In the first quarter of 1971, UK unemployment had jumped by 13 per cent while investment in industry was falling and growth slowing. Meanwhile, prices were rising faster than they had ever done, making British exports less competitive.
So the Class of 1971 could be forgiven for being concerned about their prospects. "As we all remember," says John Francis, one of that cohort, "we graduated at a time when the computer industry in the UK was in a downturn."
But when a group of them got in touch again recently after half a century, the stories they shared showed that despite the gloomy economic situation prevailing when they graduated, their degree had stood them in very good stead.
They had been able to pursue careers in a wide variety of IT-adjacent fields, applying their skills not only in IT and computing but also in areas ranging from designing ergonomic furniture to engineering rail signalling systems.
"I'm one of the few people you will meet who has made Microsoft Word smaller. You're welcome."

David Brooks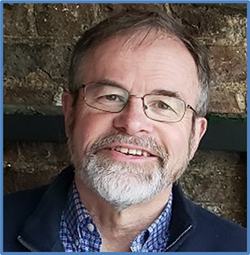 Some spent all their career in industry. Duncan Craig was with Logica for 30 years in the UK and the Netherlands, John Sweeney was an IBM IT consultant for 40 years, and David Brooks (pictured right) spent the last 20 years of his career with Microsoft in the US. ("One of my last tasks was to remove a deprecated instrumentation stack from Office clients, so I am one of the few people you will meet who has made Microsoft Word smaller. You're welcome.")
Some went into academia, including Tony Cornah who joined the University of Sheffield Computing Services, where he developed the high-speed link from the Yorkshire universities to the University of Manchester Regional Computing Centre supercomputing facility. ("Initially that high-speed link was me: never underestimate the bandwidth of a man on a train with two boxes of Hollerith punched cards!")
In later years, Tony worked on developing software engineering and databases modules for the University's distance learning programme in Singapore and Hong Kong.
"I applied for 26 jobs and got interviews for 25.  Shows you what a Cambridge degree can do."

Alan Johnstone
Stephen Turner also went into academia when after working for ICL, he joined first Exeter University and then Nanyang Technological University in Singapore. ("I was invited to spend a year's sabbatical there – and liked it so much, I stayed a further 15 years.") Today he is a Professorial Fellow at a research university in Thailand.
And Stephen is one of many of the cohort who found that their careers offered enjoyable opportunities to travel internationally. Straight after his degree, Mike Shaw went to visit Israel – initially doing some computing work for a research station on the Sea of Galilee – and ended up staying in the country.
Dave Turnbull meanwhile did a couple of stints in Belgium at Monsanto's European head office. "At the start of the 1990s we moved to put PCs on every desk across the European operation. How quickly things change: now most people have smartphones that are much more powerful than the PCS we were using then."
And David Johnson worked in Paris developing systems for the European Air Traffic Organisation in Paris, then spent a period with an Israeli software start-up "working with a bunch of very bright kids" that saw him splitting his time between London, Boston and Tel Aviv. He now lives in Sydney.
Their stories should read as encouragement to those of our current finalists worried about the future in a world made uncertain by the coronavirus pandemic.
As Alan Johnstone says, "After getting a third and hitchhiking round Africa for a year, the careers officer at Cambridge said I'd be lucky to get anything. But I applied for 26 jobs and got interviews for 25 of them. Shows you what a Cambridge degree can do."
And while John Francis initially struggled to get a job – "it took me six months to find a suitable position" – he got his first foot on the career ladder as a programmer at the University of Manchester Institute of Science and Technology, working on a DECSYSTEM-10 computer (main picture).
"If I hadn't got onto the course, my life would probably have been rather different."

Duncan Craig
He moved from there to DEC itself, and from DEC to Apollo, where working on graphics workstations "gave me some nice toys to play with while pursuing my interest in recreational mathematics".
John's subsequent career has included being at a start-up working with airline schedule information – "which gave me interesting problems to solve and a regular paycheck" – and a relocation to Silicon Valley.
Several expressed their gratitude to the course for the career options it gave them. Martyn Horner wrote: "I've always considered that the Computer Science Tripos year gave me an immense push forward in life.
"I did the Maths Tripos for the first two years and, frankly, I was finding it hard. Everything I learned in the Computer Science year, I've used. That project implementing a compiler on a PDP-15? The next year at the Cavendish Laboratory I took delivery of a huge PDP-8 and just hit the ground running."
And Duncan Craig, who became an executive director at Logica, says, "Without David Jones telling me about the introduction of the Part II Computer Science, I might not have got onto the course and my life would probably have been rather different."