Submitted by Rachel Gardner on Tue, 29/06/2021 - 14:36
---
A Livery Company rooted in the medieval craft of producing gold wire for embroidering tapestries and robes yesterday presented student Jonáš Fiala with an award celebrating its modern day use in computer hardware.
The inaugural Gold and Silver Wyre Drawers' Award for Excellence and Achievement in Computer Hardware was presented to Jonas at a ceremony at the Mansion House in the City of London. He is seen in the photo above receiving it from William Russell, Lord Mayor of London (centre), along with Michael Gunston, Master of the Gold and Silver Wyre Drawers (left).
Undergraduate Jonáš was chosen as the winner for his third year dissertation on 'Property-based Testing for Hardware'. He impressed the award committee with his project - in which he created a library and a suite of nine examples of hardware modules for testing and evaluation - and the way he integrated into it concepts from every level of computer science, from high-level mathematical formalisms to software engineering to hardware synthesis.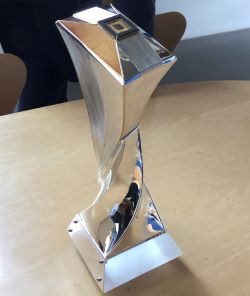 From high craft to high tech 
The skill of producing very high grade gold and silver wire and thread for use in embroidering flags, banners, uniforms and vestments, was first brought to London by European craftsmen during the 15th century.
Six hundred years later, gold and silver wire products are still being used not only in needlework, textiles and jewellery, but also for more high-tech purposes. High-grade gold wire, for example, is a key component of the hundreds of billions of microchips and microprocessors produced worldwide.
To reflect this evolution, the Worshipful Company of Gold and Silver Wyre Drawers established an annual award in this Department for exceptional work in the design or development of computer hardware.
The Gold and Silver Wyre Drawers' Award for Excellence and Achievement is presented annually to one of our students – who may be either an undergraduate or postgraduate. Since its earliest days, this Department has had a strong culture of building computers and computer systems, and this award celebrates that tradition.
The award will also foster connections between the Livery Company and students of the Department, paving the way for some exceptionally gifted young computer scientists to join the growing band of Freemen of the Gold and Silver Wyre Drawers.
At the presentation, Jonáš received this elegant trophy in silver and gold (pictured right), specially designed and made by Freeman Nan Nan Liu. He was also given a Certificate (especially embroidered with gold wire) made by Laura Baverstock, also a Freeman of the Company.
Supporting young talent
Celebrating and encouraging young talent is a key aim of the Gold and Silver Wyre Drawers. Among other things this is done through offering bursaries at the Royal School of Needlework, and annually giving prizes for gold and silver wire jewellery at the Goldsmiths' Craft and Design Council Awards, and for textiles using gold wire at the Hand and Lock Awards.
Michael Gunston, Master of the Company says, "The Gold and Silver Wyre Drawers have for some years taken the lead in celebrating and recognising talented young goldsmiths, silversmiths, jewellers and embroiderers, while also supporting many institutions promoting the modern use of gold and silver wire. The agreement with the University of Cambridge Department of Computer Science and Technology adds an important new element to our programme of supporting young people working in this exciting and creative sector."
Recognising student achievement
Professor Ann Copestake, Head of this Department, says: "Through their research, our students make very valuable contributions to computer science. We are always pleased to see their achievements recognised and rewarded, so we are very grateful to the Gold and Silver Wyre Drawers for generously establishing this Award for them."
The Worshipful Company of Gold and Silver Wyre Drawers maintains the traditions and customs of the City of London and supports the Lord Mayor and Corporation in promoting the status and image of the City. It also provides a link to the modern usage of gold and silver wire and thread.  The company seeks to encourage young people working with gold and silver wire to connect with the Company. As part of this, the company has identified computer technology as an important modern and growing use of gold wire.