Submitted by Rachel Gardner on Mon, 26/04/2021 - 15:17
---
Dr Robert Watson has won the 2021 EuroSys Jochen Liedtke Young Researcher Award. This honour recognises European junior researchers (i.e. those no more than 10 years on from receiving their PhD) who have demonstrated exceptional creativity and innovation in systems research.
The announcement was made today, Tuesday 27 April, at the EuroSys 2021 conference – a leading forum for the discussion of issues in systems software research and development, including implications related to hardware and applications.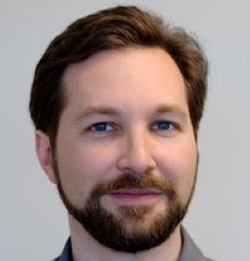 The EuroSys Jochen Liedtke Young Researcher Award was created in 2014 by ACM EuroSys and is named after Jochen Liedtke, one of the most prominent researchers on microkernel architecture. His work culminated with the L4 microkernel design, which rethought inter-process communication from the ground up.
The award is given annually at the EuroSys conference in his memory and is accompanied by a 2,000 EUR cash prize generously provided by RedHat.
Robert is a Reader in Systems, Security and Architecture here and is involved in several research groups in the Department including Security, Networks and Operating Systems, and Computer Architecture.
He leads a number of cross-layer research projects spanning computer architecture, compilers, program analysis, program transformation, operating systems, networking, and security.
He has a long history of contributions in systems research, including: co-developing the Jail security model that is an intellectual foundation for contemporary OS containerization; leading development of the kernel access-control framework used for application sandboxing in systems from macOS and Junos to FreeBSD; developing the Capsicum OS security model, and most recently leading developing of the CHERI computer architecture
Robert proposed, and along with colleagues Peter G. Neumann (SRI International) and Simon  Moore and Peter Sewell (here in the Department, leads, the CHERI architecture project, a new processor protection model now being incorporated into Arm's forthcoming Morello processor, SoC, and board.
CHERI is now the key technology being explored in the UK Industrial Strategy Challenge Fund (ISCF) £187M Digital Security by Design (DSbD) programme.
Robert says: "I am honored to receive this award, and grateful to my mentors, colleagues, and students without whom this work would not have been possible."
Many congratulations to him on receiving this prestigious award.