Submitted by Rachel Gardner on Tue, 09/05/2023 - 16:55
---
Our colleague Professor Peter Sewell has been elected as a Fellow of the Royal Society, it was announced today (Wednesday 10 May 2023).
He is among the 80 outstanding researchers, innovators and communicators from around the world who have just been elected as the newest Fellows of the Royal Society. They have been selected for their substantial contribution to the advancement of science.
The Royal Society is the UK's national academy of sciences and the oldest science academy in continuous existence. Its aim is to recognise, promote, and support excellence in science and to encourage the development and use of science for the benefit of humanity.
Sir Adrian Smith, President of the Royal Society said: "I am delighted to welcome our newest cohort of Fellows. These individuals have pushed forward the boundaries of their respective fields and had a beneficial influence on the world beyond."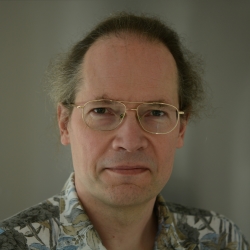 Peter is Professor of Computer Science here in the Department. In his research, he aims to put the engineering of the real-world computer systems that we all depend on onto better foundations, developing techniques to make systems that are better-understood, more robust and more secure. He is interested especially in how one can develop and use mathematical models for this.
He and his group are best known for their work on the subtle relaxed-memory concurrency behaviour and detailed sequential semantics of processors and programming languages. They have brought these into the mathematical domain, creating experimentally grounded models that de-mystify them for practitioners and theoreticians, to enable more rigorous engineering and more realistic theory.
They have done the same at design time for new capability-enabled computer processor architectures that build in better security protection. (Capabilities are a new architectural data type to replace integer pointers, tightly controlling all memory accesses to limit damage.) 
Peter co-leads, along with Robert Watson and Simon Moore here in Cambridge and Peter Neumann at SRI International, the CHERI cybersecurity project. This extends conventional hardware Instruction-Set Architectures (ISAs) with new architectural features to enable fine-grained memory protection and highly scalable software compartmentalization.
For the CHERI project and Arm's 'Morello' industrial prototype (developed and currently being evaluated through the government's £200m Digital Security by Design programme, which he helped instigate), Peter and his colleagues have established machine-checked proof that full-scale architecture specifications have their intended security properties. Morello is the first industrial-scale processor for which the architecture specification has mathematically-proven security properties, providing unprecedented confidence in the approach.
Of his election as a Royal Society Fellow, Peter says: "This honour is a testament to the work of many excellent colleagues over the years, without whom none of this would have been possible."
You can read details of all 80 new Fellows - seven of them, including Peter, from Cambridge University - on the Royal Society website.