Submitted by Rachel Gardner on Wed, 16/03/2022 - 22:51
---
Congratulations to our colleague Dr Amanda Prorok who has won a 2022 Pilkington Prize for excellence in teaching.
The Pilkington Prizes are awarded annually to individuals who make a substantial contribution to the teaching programme of a University of Cambridge Department or Faculty, or the University as a whole.  
The 2022 winners were announced today.
Robot trainer Dr Prorok was nominated for single-handedly introducing an entirely new programme of robotics teaching in the Department of Computer Science and Technology when she joined in 2017.
Her citation says: "Her robotics courses are highly innovative both in their content and in their delivery, combining advanced theoretical concepts with practical components that enable the students to put theories into action and apply them to real mini-robot systems. The advanced topics that Amanda teaches include approaches to coordinating artificially intelligent agents (e.g. robots, vehicles, machines) to achieve common goals in shared physical and virtual spaces."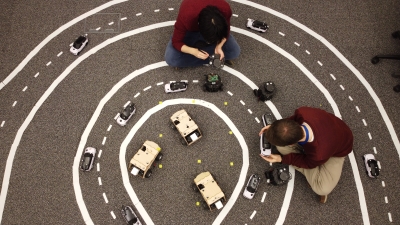 It adds: "She has recently started collaborating with colleagues in Engineering to create modules in robotics which are genuinely shared between the departments, as opposed to simply being borrowed. In addition to advanced undergraduate and Master's modules, Amanda has also co-taught a foundational computer science course to first-year undergraduates (Computer Science and Natural Sciences Triposes) and supervised around twenty Master's and third-year undergraduate projects over the last three years.
"Her teaching is exemplary throughout, and is much admired by her colleagues as well as greatly appreciated by her students."
Many congratulations to Amanda. She and her fellow 2022 Pilkington Prize receipients will be presented with their awards at a ceremony in June.