Submitted by Rachel Gardner on Mon, 14/06/2021 - 10:04
---
Many congratulations to Professor Andy Hopper, our colleague of many years and a former Head of Department, whose work was recognised with a knighthood in the Queen's Birthday Honours.
Andy, Professor of Computer Technology, has been knighted for services to Computer Technology.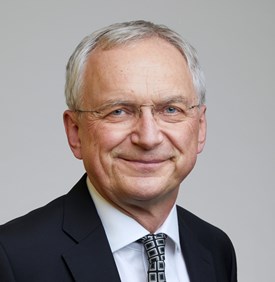 He is Treasurer and Vice-President of the Royal Society, and has made a major impact on the modern digital world through pioneering work in computer systems and architectures. His research interests include computer systems, sensor-driven and location-aware computing, and using computer technology for sustainability of the planet.
The work of Sir Andy and his team on computing and sustainability is helping to tackle global problems such as biodiversity and climate change. He chaired the Royal Society working group whose December 2020 report 'Digital Technology and the Planet' showed how computing could be harnessed to achieve net zero. 
It said that digital technology, from smart meters to supercomputers, weather modelling and AI, could deliver nearly one third of the carbon emission reductions required by 2030. 
He also has a strong commitment to diversity: as Head of this Department, he helped significantly increase the number of women appointed to the staff.
Andy has pursued academic and industrial careers simultaneously. As well as being Head of this Department for 14 years (from 2004-2018), and a Trustee of the University of Cambridge (2011-14), he also co-founded thirteen start-ups (three of which floated on stock markets), and was CEO of an industrial research laboratory. The companies he co-founded have received numerous Queen's Awards for Enterprise. He is Chairman of RealVNC Group and lowRISC CIC.
"The University of Cambridge and the Cambridge Cluster have provided a wonderfully collaborative and flexible framework within which I have had the good fortune to work for 47 years," he says.