Windows Terminal Servers
There are two Windows Terminal Servers which are provided to allow access to Office applications. A limited number of applications are installed on the two machines. Users have restricted rights on these machines so may have difficulties doing some tasks they can perform on a normal Windows workstation.
Users who need access to other applications not installed on the Terminal Servers should probably have a Windows Workstation for their individual use. Requests to add applications to the Terminal Servers are evaluted according to strict criteria - namely the generality of the application to other users and also is it related to document processing rather than code production.
Connecting from a Windows machine
Windows users can connect to the terminal server by using the Remote Desktop Connection application. This can be found in the Accessories sub-menu or more easily be invoked from the Start menu via the command prompt using the executable name mstsc. The connection window appears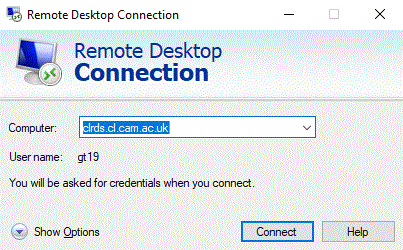 You should login against the DC domain either by quoting your userid as DC\crsid or as just crsid as shown above.
Connecting from Unix
From a lab managed Unix workstation the best means of connecting is to use the command cl-rdesktop which ensures that one of the current preferred Terminal Servers is used and that display resolution and client name are set correctly.
If you need to use the Linux rdesktop command directly then you will also need to choose which of the servers to use (the default is desktop.cl.cam.ac.uk) and set the window size if needed (e.g. RDESKTOPOPTS=-g1500x1100 cl-rdesktop). If you wish to use ClearType to improve readability then you need to pass the option -x 0x80 to rdesktop.