(option no longer available from 2020 entry onwards)
Rather than applying to study Computer Science directly, you can also choose to study CS as a Natural Scientist at Cambridge. This option recognises that computers are a vital ingredient for almost all science today and it is designed to give future scientists exposure to the fundamentals of CS which will be most relevant to the later career.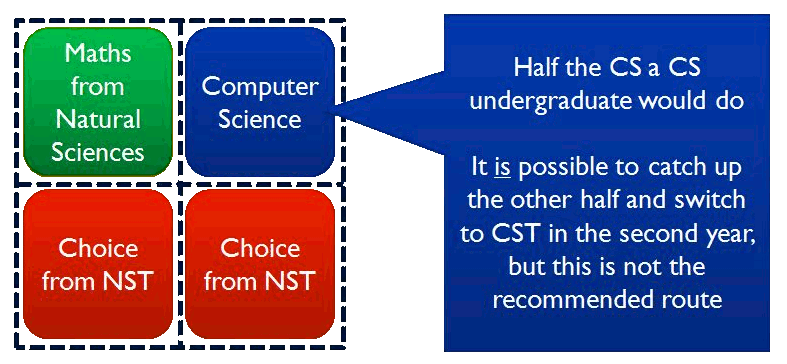 How does this work? If you apply to study Natural Science at Cambridge, you can elect to spend 25% of your first year studying CS. If you choose to do this, you must also spend another 25% studying the Natural Science mathematics course. (The mathematics course is also a requirement if you wish to study many other Natural Science subjects such as Physics or Chemistry, so this shouldn't be seen as a major hurdle.)
Choosing this option means that you will only study half of the CS that a first-year Computer Science student would study. This means that a transfer into the Computer Science Tripos at the end of the first year involves some catch-up, however it is possible, and many students have taken this route into CS. So, if you think you would prefer to study CS at Cambridge, apply for the Computer Science course directly; if you want to study Natural Sciences at Cambridge, but you think CS might be interesting, choose to study Computer Science as an option in the first year.